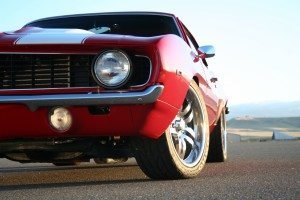 At Purnell Body Shop, we take seriously each and every complete auto restoration project we take on.  Specializing in classic cars and muscle cars, we are just as selective as most owners when we choose such projects.  As such, we chose to only take on a select few restoration projects in a given calendar year.
At Purnell Body Shop, we pride ourselves on our chassis and body work in every restoration.  We will strip both sides of the panel, complete all necessary body work or panel replacement, refinish both sides of the panel, fit and correct all body lines and paint with the Premium or Show Car Quality finish.
Our goal in any restoration is to provide a result of a Premium or Show Car Quality vehicle.  We choose owners who are willing to be highly involved in the restoration process, including but not limited to the following:
procurement of parts
necessary restoration information
disassembling and reassembling the vehicle
We are a GOODMARK Industries dealer for aftermarket restoration parts.  We will assist in selling even if we are not performing your restoration.
Additionally, we have a list of trusted partners locally who will gladly recommend for all interior facets of the restoration process should you not already have a someone in mind.
For more information call or email david@purnellbodyshop.com